Restore your smile with an all on 6 implant placement
Regain your oral functionality with an all-on-

6
Dental implant in Homestead, FL
All on 6 teeth replacement system refers to all the teeth in either the upper or lower jaw being replaced with a fixed bridge which is supported by 6 dental implants.  The dental implants are inserted into the jawbone, eventually incorporating with the bone in a process called osseointegration.
Dental Examination
Smile Plus will conduct a thorough examination by taking x-rays and or CT scan to assess the anatomical structures in your mouth and the extent (if any) of bone loss.  If you are a candidate for an all on 6 procedure, impressions will be taken to provide us with exact placement of your implants.  Dr. Gil will then assess all imaging taken in order to restore your smile and oral functionality.
Treatment
The procedure can be carried out under local anesthesia. Procedure usually takes about 2 hours per jaw.  If you need to have any extractions, these can be done at the same time, and the areas around the extraction sites will be cleansed thoroughly.  The dental implants will be inserted into the jaw.  A temporary arch will be placed, which is lighter than a permanent restoration, and will allow your mouth time to heal.
All-on-6 dental implant benefits
•
Enjoy eating and speaking again
•
No need for removable dentures
•
Instantly reverses aging
•
Function and look like your natural teeth
•
Regain oral functionality
All-On-X Dental Implants at Smile Plus.
In the past, dentures were seen as the only solution for missing or deteriorating  teeth. However, with today's advancement in technology, implant dentistry is bringing people a more comfortable, more modern option for tooth replacement.
When replacing all teeth in upper or lower arch, there are many variables on how treatment will be done.  During your initial consultation, Dr. Gil will perform a thorough examination as well take allnecessary x-rays and take a 3D CT scan.  Our 3D CT scan technology allows us to take a good look at patient's jaw anatomy which enables us properly assess and put together a precise treatment plan.
A 3D CT Scan combines a series of X-ray images taken from different angles around your body and uses computer processing to create cross-sectional images (slices) of the bones, blood vessels and soft tissues inside your body.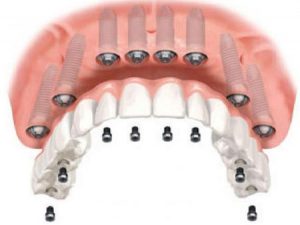 This allows viewing of bone density and location, nerve positioning, and If any bone is needed for implant placement.
An all on X dental implant treatment, involves the placement of 6 or more implants in order to attached your fixed denture.   The number of implants needed varies by patients needs, anatomy, and jaw-bone. 
How do you know if the All-On-X Full Mouth Implants procedure is right for you?
Dr. Gil offers a FREE consultation for his patients.  At the time of your consultation, you'll receive a complimentary exam, x-rays.  This exam will help determine if you need implants (how many implants) and help in generating your treatment plan.
Ready to transform your smile?
Call or request your appointment online.
Special Offer 
All on 6 Implants From $299/mo
Request your appointment now!