Revitalize your smile with a c

osmetic dental procedure!
Complete

Cosmetic dentistry

at Smile Plus Homestead
What is full mouth reconstruction?
Full mouth reconstruction is a procedure also known as full mouth restoration.  A full mouth reconstruction involves a series of dental surgeries and or procedures that help solve several oral health problems or complications.  Full mouth reconstruction is a viable option for patients who have experienced oral deterioration.  In these types of cases, most or all of the teeth are worn down due to age and other dental factors.  A full mouth reconstruction focuses on treating oral conditions pertaining bite, jawbone, teeth, or any of the structural deficiency.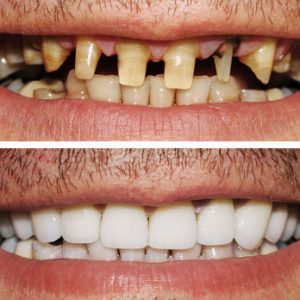 What procedures are performed during full mouth reconstruction in Homestead, FL?
A full mouth reconstruction is unique procedure/ treatment which varies depending on patients dental needs.  Because full mouth reconstruction requires a series of procedures and recovery time, procedure length will vary depending on the treatment needed.
Some common dental procedures performed during full mouth reconstruction include dental implants, dental crowns, dental bridges, partial bridges, and composite fillings.  Additionally, some cosmetic procedures may be needed to finalize complete smile makeover.  Some cosmetic procedures include porcelain veneers, dental bonding and teeth whitening.   
Dr. Gil also is highly trained in all facets of implant dentistry and smile makeovers.  Our office offers tooth extractions, all-on-6, all-on-8 implant dentistry for a complete mouth restoration.
Ready to transform your smile?
Call or request your appointment online.


Special Offer
Free smile makeover consultation
Request your appointment now!
Address
930 North Krome Ave
Homestead FL 33030
Hours
Monday – Friday: 9-6pm